There are just so many fantastically cool DIY projects out there on the internet on Social Media and Youtube. There is everything from the coolest art projects to furniture to garden planters in every possible materials all very affordable being DIY projects.
What every your DIY project may be you might simply not have the time to do the project yourself or may decide the project is a little too complicated, you might not have the tools and so on.
You can view our DIY projects playlist on Youtube here, regardless of how you find a project you want to make, all you need to do in order to get the project started is to contact us and get a quote for us to arrange to get it made for you.
So just find a project you want made and commission us to get it made for you, in any location throughout the UK. We will arrange for a local handyman to do the project for you using locally sourced materials.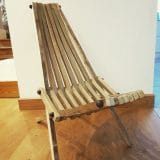 Take this DIY Stick char you can find on our playlist, we created a very similar char in London using old balustrades that were available to us so it also became an upcycling project. Not only that but because the balustrades were actually curved, my carefully selecting and placing them, we managed to improve on the original design and made a better version of the chair that was more comfortable.
Another few examples are these self watering planters and upcycled pallet planters: